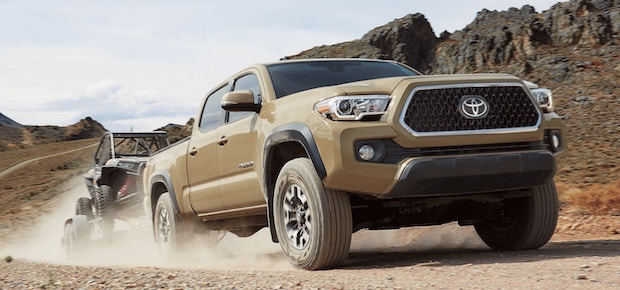 The 2019 Toyota Tacoma is a midsize pickup with giant potential. With tough styling, great amenities, and classic Toyota performance, it's one of the best choices on the road for a functional and fun pickup. But Illinois drivers have jobs to do and cargo to haul, so they always ask us at our Pekin Toyota dealership: How much can the Tacoma tow?
There's a few answers to that question, because there are a number of different options available for the truck that impact its maximum towing capacity. Different trim levels, drivetrains, and engine options all can pull different amounts. Let's take a look below:
How Much Can the 2019 Toyota Tacoma Tow?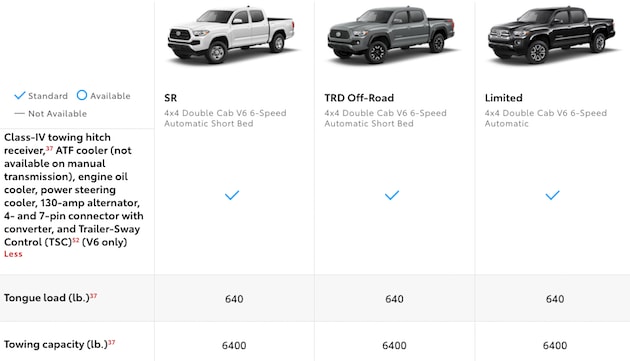 Equipped with a V6, 4x4 drive, and an automatic transmission, the SR, TRD Off-Road, and Limited models can all pull a maximum of 6400 lbs--easily enough for a small or medium-sized camper or boat, or to tow almost any other passenger vehicle.
Other configurations have different maximum towing capacities, however, and some options are not equipped with a trailer hitch. The Tacoma's SR and SR5 trim levels are also available with a smaller 4-cylinder engine, which still has a respectable 3500lb towing capacity. And unlike most manufacturers, Toyota offers manual transmission pickup trucks: the TRD Sport and TRD Off-Road models of the 2019 Tacoma offer available manual transmissions, which can tow up to 6500lbs as 4x4s.
The SR and SR5, when equipped with a V6, 4x2 drive, and an automatic transmission, offer the highest towing capacity of any 2019 Tacoma combinations, with up to 6800lbs maximum for the Access Cab models and 6700 for the Double Cabs.
For a full list of maximum towing capacities for all Toyota Tacoma models, click here. Always remember to tow on the safe side, too: You want to leave a buffer beneath the maximum rated towing capacity, so subtract a few hundred pounds from that absolute limit when you're loading up your trailer just to be safe.
And when you're ready to work your way through Pekin and beyond in a great new Toyota truck, visit us at Fort's Toyota of Pekin or give us a call at 866-984-0593 to set up a test drive.