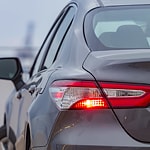 The 2020 Toyota Camry includes a hybrid model. It can get over 50 miles per gallon. The performance features will make your drives a lot more pleasant. All-weather reliability is one of the performance features that you can enjoy. You will likely have to drive on several types of terrain. The all-wheel drive system will make it easier for you to drive.
The system will be able to detect when the front wheels start to slip. It will also provide you with additional grip when you drive in the rain, gravel or snow. Additionally, this vehicle has 3-mode drive switch. You can choose from eco, normal and sport. The sport mode will allow you to accelerate more quickly.
Eco mode adjusts the throttle. Normal mode will allow you to get the most out of your performance and economy. If you need to test drive the Toyota Camry, then you can visit the dealership.