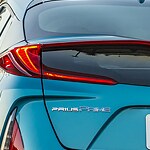 Prius Prime's electric drivetrain delivers a phenomenal range of 25 miles in electric mode. This is great for long-distance trips, and the car will run without using a drop of fuel. When the charge runs low, Prius Prime will continue to perform as if it was running on gas.
For maximum control, the Prius Prime comes in three distinct modes, namely; Electric, Auto, and Hybrid. For optimum efficiency, the Auto EV mode intelligently switches from electric to hybrid modes based on your needs and the road condition you are driving on. Prius prime hybrid brings together the gas engine power with the Hybrid vehicle battery to enhance efficiency and economy.
Toyota Prius Prime is the top-of-the-line vehicle in the hybrid lineup. With its 121hp power output, the Prius can go anywhere with ease. It is also equipped with a robust four-cylinder engine that has a VVT-I that helps in enhancing fuel efficiency.